Established in 2001 Arkwright Meadows Community Garden is a thriving community project. The Gardens are a green oasis within walking distance of Nottingham City Centre. We are open to visitors throughout the week providing a place for relaxation and recreation.
We grow and sell organically grown fruit and vegetables, provide volunteering, education and training, deliver a wealth of community activities and offer meeting room hire
AMC Gardens is run by local people and provides the Meadows with a well loved resource which reflects and celebrates this vibrant and diverse community.
The Gardens site and buildings are fully wheelchair accessible.
0115 986 7777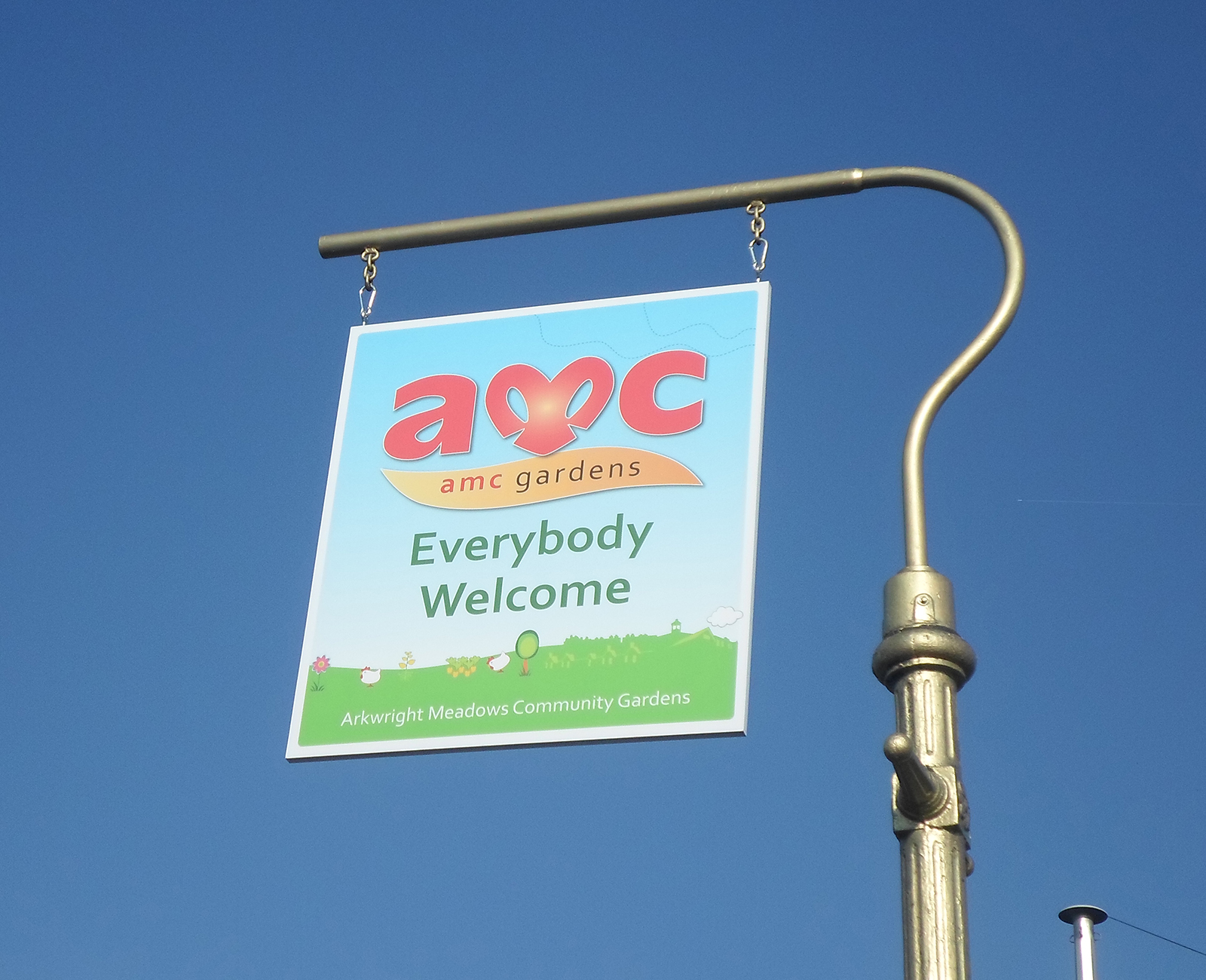 Latest News from the Gardens is on the blog page of our website on this link:   Latest News
You can drop into the Community Gardens anytime during our opening hours – everyone is welcome to come in, have a look around, bring a picnic (we've got lots of chairs outside) and explore.   We sell our fresh organic produce all year round and have a selection of different seasonal produce on offer (produce changes all the time depending on what's ripe and available – we keep a blackboard by the gate with updated information on of what's on sale).
The following regular sessions are running weekly:  
Tuesday, Wednesday, Thursday, Saturday  Volunteering
Our after school Kids Club meets every Thursday, 3.15 – 5pm AMC Kids Club Outdoor Play for 5-13 year olds.  Places free and numbers are limited, you can call the gardens to enquire about availability / waiting lists.
Saturday Family Sessions run every Saturday 11 – 12.30 there are further details on our Facebook page 
Cook and Eat,  every Tuesday 11am – 1pm   Come and learn some simple and healthy cooking skills with us, socialise and eat. We have limited spaces so please call ahead if you are planning on joining us.   Further details on our facebook page 
Tandoor Oven Available to hire, bring your own dough, contact us for more information. 
Special Events and Workshops
We update our Facebook page regularly with our workshops, activities and events.
Prints with Plants, introduction to lino printing
further details on our facebook page on this link
When Women Gather  August 11th 10-11.30am
More information from When Women Gather
Tales Under Trees Summer Holiday story sessions
Fridays 2-3.30pm August 12th, 19th, 26th
ArtSpeak Friday August 26th August 10.30-12.00
September Event, Saturday September 3rd 12-4pm
further details on our facebook page  on this link
Free bike repair sessions, 10-12 Saturdays August 13th, September 10th,
September 24th    no need to book, just turn up.
More information from Women in Tandem on this link 
Open Minds Nottingham run regular sessions here, there's lots more information on their Facebook page on this kink 
We have been adding some activity ideas to our You Tube channel on this link. 
Summer opening times:
Tuesday 12-4
Wednesday 12-6
Thursday 12-4
Friday 12-4
Saturday 10-4 
(Closed Sunday and Monday)
Winter opening times:
Tuesday 12-4
Wednesday 12-4
Thursday 12-4
Friday 12-4
Saturday 10-4 
(Closed Sunday and Monday)
We have a wonderful outside space for exploring and plenty of seats outside.
We will continue to offer sales by phone order and arranged collection slots.
Thank you again for your support and understanding.