Established in 2001 Arkwright Meadows Community Garden is a thriving community project. The Gardens are a green oasis within walking distance of Nottingham City Centre.We are open to visitors throughout the week providing a place for relaxation and recreation.
We grow and sell organically grown fruit and vegetables, provide volunteering, education and training, deliver a wealth of community activities and offer meeting room hire
AMC Gardens is run by local people and provides the Meadows with a well loved resource which reflects and celebrates this vibrant and diverse community.
The Gardens site and buildings are fully wheelchair accessible.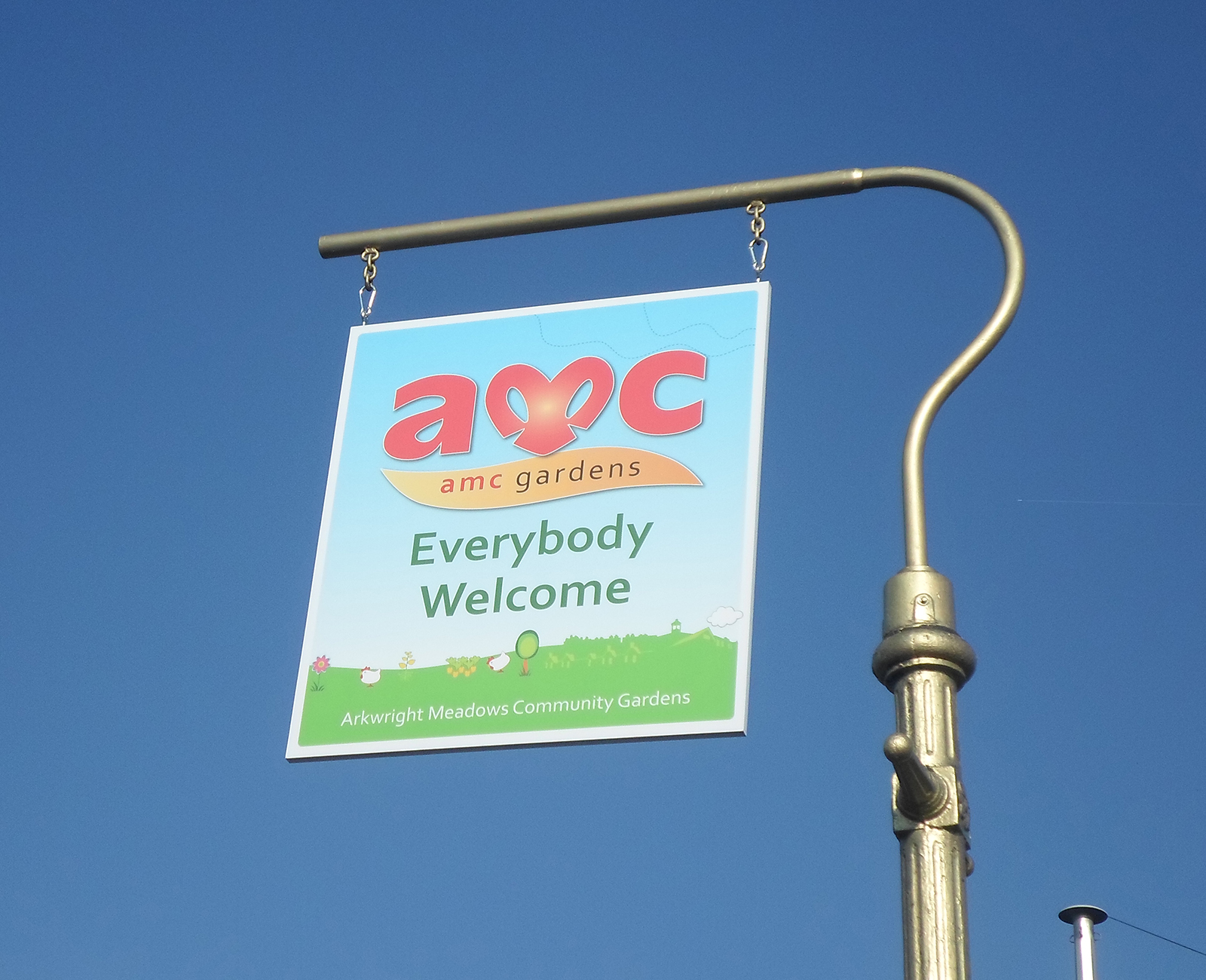 Regular Activities
Every Tuesday to Saturday, 10am-3pm Tandoor Oven Available to hire £5 per session. Bring your own dough

Every Thursday, 3.15 – 5pm AMC Kids Club Outdoor Play for 5-13 year olds
Wednesday, Thursday, Saturday (and also at events) Volunteering
Cook and Eat, every Tuesday 11am – 1pm, starting February 5th.  Come and learn some simple and healthy cooking skills with us, socialise and eat. We have limited spaces so please call ahead if you are planning on joining us.
Cycling with Ridewise – on the 2nd and 4th Saturday of the month, April to October.
http://www.ridewise.org.uk/ride/index.php 
Evening Yoga at AMC Gardens every Monday evening, 2 different classes, one at 6-7pm and the other at 7.30-8.30pm

https://www.facebook.com/events/353246158807759/
Tales Under Trees new weekly Saturday family sessions to share stories and seasonal activities, drop in between 11am and 1pm, starting in October 2019.
https://www.facebook.com/events/1558505767651863/
Special Events and Workshops
Several events and workshops are coming up in 2019, as well as our regular sessions, keep an eye here and on our Facebook Page for further information:
Winter wreath making, for adults and older young people, Saturday November 30th 10.30am – 12.30pm
https://www.facebook.com/events/398283307492298/
Winter decorations from natural materials, for families (children and adults together) Saturday November 30th 1.30 – 3.30 pm
https://www.facebook.com/events/696099217482950/
Winter wreath making, for adults and older young people, Tuesday December 3rd 6.30-8.30pm
https://www.facebook.com/events/1376156242533837/
Big Garden Birdwatch Saturday January 25th 2020.   A session for families
https://www.facebook.com/events/2125519251077081/
Family lantern making session – Saturday February 1st, for adults and children together to make lanterns to illuminate the gardens at our Light Night event
https://www.facebook.com/events/2530153003730297/
Lantern making for our Light Night Event – Two Wednesday evening sessions on January 29th and February 5th for adults to help us create a host of lanterns to illuminate the community gardens for our Light Night event on Saturday February 8th
https://www.facebook.com/events/357149851738021/
Light Night event at the Gardens – Saturday February 8th 2020.
Summer (1 April to 30 September)
Tuesday to Thursday 12noon – 6pm
Friday 12noon – 5pm
Saturday 10am – 4pm
Sunday, Monday and Bank holidays – Closed to public
Winter (1 October to 31 March)
Tuesday – Friday 12 noon – 4pm
Saturday 10am – 4pm
Sunday and Bank holidays – Closed to public