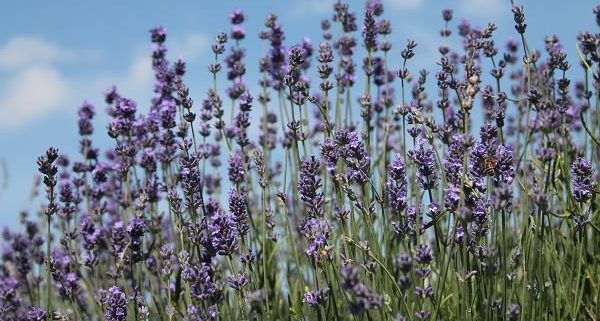 If you come down to the Gardens in the summer you can expect to find us busy ensuring everything we grow is fed and watered – and with this extensive dry hot summer we are really being careful to use all our grey water (washing up water etc) to help keep everything going.   We feed our pants with liquid comfrey feed which we make here and the plants thrive on this.
Things like beans, courgettes, cucumbers, spinach, tomatoes, chard, peppers, squash and lots of fruit (plums, raspberries, currants etc) become ready throughout the summer and we sell our seasonal veg and fruit when we are open – drop in and see what's available.   There's a board outside our gates during opening hours which lists the available produce – things change daily as some crops ripen and others finish producing.
Pollinating insects are everywhere, with plants like lavender packed with bees and butterflies.
Anyone is welcome to come over to the Community Garden during our opening hours to sit and relax in the peace and quiet here – bring a picnic and unwind, we have plenty of seats and picnic tables.
Lots of seasonal vegetables and herbs are available for sale, as well as vegetable and flowering plants and also house plants.   We also have an annual summer community event in July and then after that we start preparing for our autumn event.